Improve The Health Of Your Liver
LiverFlo is a U.S. Patent Pending breakthrough in liver health. The four active ingredients in LiverFlo are accepted worldwide, and are clinically recognized to improve liver health. Liverflo's clinically significant ingredients, and pharmaceutical grade delivery systems provide the metabolic support you need for optimal Liver function.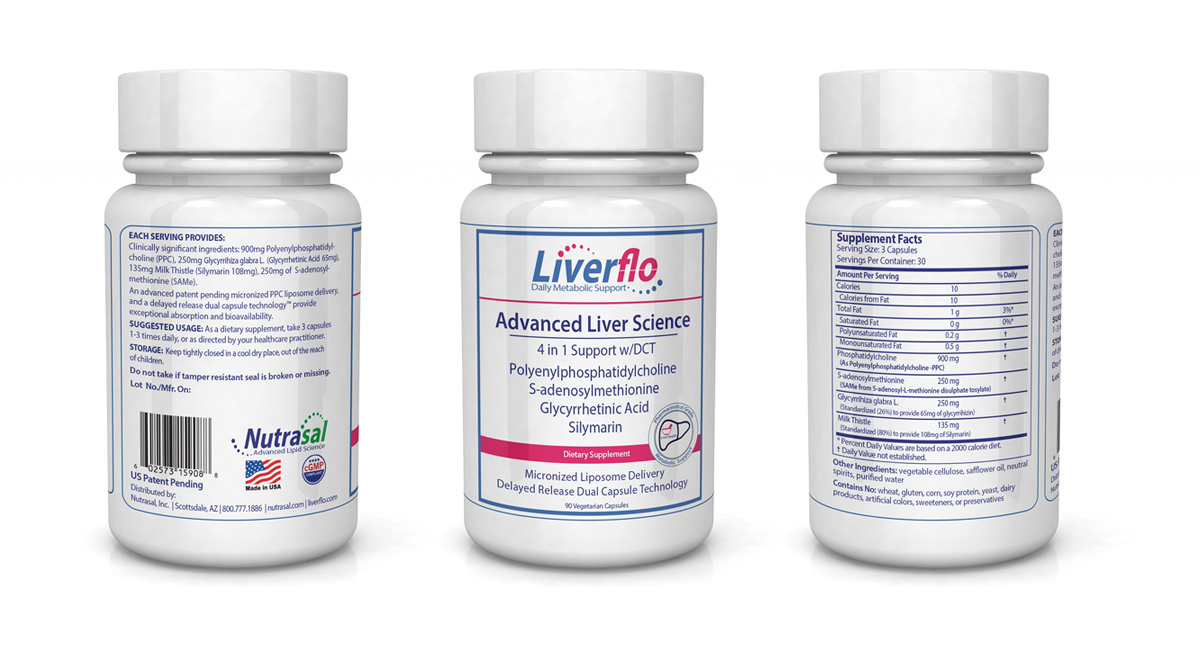 1
Unique delayed release dual capsule
2
Made in the US in an ISO and cGMP certified facility.
3
Pharmaceutical grade ingredients
4
Free of wheat, gluten, corn, soy, yeast, and dairy.
LiverFlo Works Holistically and Physiologically To:
Increase blood flow properties
Reduce radicals and peroxides
Increase aminopropylation
Increase transulfuration
Increase transmethylation
Improve fat metabolism
Stabilize bile
Restructure damaged membranes
Normalize cell permeability
Improve cell metabolism
Activate membrane-bound enzymes and receptors
Stimulate hepatocyte regeneration and detoxification
Proven Effective By 500+ Scientific Studies
If your liver is suffering from any one of the many environmental conditions known to adversely affect liver function, there are no pharmaceutical drugs to help you. But there are four individual compounds that have been prescribed in Europe for decades. Over 100 million doses of PhosChol (one of Liverflo's ingredients) alone have been administered to stimulate detoxification and regenerative properties of the liver.
Now these compounds are available in one supplement, clinically proven to support healthy liver function. More than 500 clinical publications, in many respects, confirm the pharmacological results of the compounds in Liverflo. It inhibits liver toxicity caused by air pollution, industrial toxins, nutrients and malnutrition, drugs, and hormones.
Lead by world renowned Dr. Karl Gundermann, Liverflo was developed by leading researchers in phosopholipids and phyto-medicine with a specialty in hepatology. It is now available in the US, exclusively manufactured in Arizona in an ISO and cGMP certified facility with pharmaceutical grade ingredients and an advanced US patent pending delayed release dual capsule.
The Pharmaceutical Grade Ingredients of Liverflo
Silymarin
Extracted from milk thistle. Has been shown beneficial in reducing inflammation, oxidative stress, lipid peroxidation, and is resistant to bacteria. Acts as an antioxidant and accelerates the synthesis of RNA.
PPC as PhosChol
Polyenylphosphatidylcholine is prescribed by doctors to millions of patients with liver disorders. PPC restructures damaged membranes, normalizes cellular permeability, improves cell metabolism, and stimulates liver cell regeneration.
Glycyrrhizin
Used in traditional Chinese medicine. One of the leading natural compounds used clinically for chronic Hepatitis C. Acts as an anti-inflammatory, antioxidant, and helps control immune activities.
SAMe
S-Adenosyl-L-methionine formed from methionine and ATP in the mitochondria. SAMe plays an important role in detoxification processes and in the elimination of reactive oxygen intermediates. It is essential for cell regeneration.
100% Money Back Guarantee
Our promise to you is simple, produce the highest quality products possible, no compromise, no exceptions. Just Results! We understand our products are not cheap…but you get what you pay for, and that is uncompromising quality.
We believe our products are worth every penny, and are delivered at a value relative to the pharmaceutical grade ingredients and formulating technology that go into every one of our products. Unlike many larger publicly traded, and hedge fund owned supplement companies, we can deliver exceptional quality at an exceptional value. We do what other companies can't do, or refuse to do!
We are absolutely confident that you will appreciate the quality and the results our product(s) deliver, but in the event, you do not, we offer a no hassle, money back, 100% satisfaction guarantee. If you do not find our products to be the most effective you have ever used, simply call for a full refund.